News
(published 22Aug2018)
(published 27Jul2018)
Youth Umpire Development at U16 Boys and Girls Six Nation Tournament at UCC, 21st July 2018.
As a follow on to the Introductory Umpiring Course on the 9th and 10th of May 2018 in Waterford, a group of young developing umpires travelled to UCC from Waterford Hockey Club to take part in an umpiring workshop with Malcolm Coombes at the U16 Girls and Boys Six Nation Tournament.  Many thanks to Sally Kavanagh for organizing it and Peter Murphy and Malcolm Coombes of MHUA for facilitating.  Well done to all our Youth Umpires on the day.
(Image 1 Group Photo:  Back Row – Rachel Shute, Rory Treacy, Malachy Shute, Caoimhe Whelahan, Bandon HC, Malcolm Coombes.  Front Row – ?, Deirdre Cotter, Kirsten Browne, Mia Johnston).
(published 07Jul2017) 
Forget Wimbledon!! Try hockey.  WLM FM presenters, Ollie Carroll and Mary O'Neill try their hand at hockey.
Waterford Hockey Club play hockey all year round on our new state of the art hockey pitch based at Newtown School in Waterford city.  Club member Jonathan Earl, along with some of our youth members were interviewed pitch side at one of our recent 'Fun Hockey' evenings by WLR FM radio presenters Ollie Carroll and Mary O'Neill of 'The Big Breakfast Blaa'.  The interview aired on WLR FM on Friday July 7th 2017.  Ollie and Mary joined in for an evening of fun to give it a go!
(published 06Mar2017)
Úrma Sports – WHC Sponsor of the Week
Thank you to Úrma Sports for their kind sponsorship and support to Waterford Hockey Club by purchasing one of our pitch side hoardings.  Úrma Sports is a 100% Irish owned family business that established itself in Waterford after years of extensive research in order to manufacture a high quality sliotar affordable to all hurling clubs and schools throughout Ireland and the world.
Over the next few months they will be expanding their range of products to include footballs or to some people soccer balls along with a vast range of sports training equipment such as training cones, training bibs, training ladders and other sporting items such as whistles, pumps, water bottles and mouth guards or gum shields.  For more details see www.urmasports.ie
(published 20Feb2017)
Major Opticians – WHC Sponsor of the Week
Thank you to Major Opticians for their kind sponsorship and support to Waterford Hockey Club by purchasing one of our pitch side hoardings.  Major Opticians are one of the longest practicing opticians in the south east of Ireland, in business since 1975.  They are independent and locally owned with practices in Waterford and Carrick-on-Suir.  For all your eye care needs contact Major Opticians for expert advise along with a great choice of eyewear brands.  For more details see www.majoropticians.com
(published 25Oct2016)
Book your pitch side advertising hoarding now.  Spaces are limited and booking fast.
Waterford Hockey Club are selling a limited number of advertising hoardings surrounding the new 'Tiger Turf' all-weather hockey pitch at Newtown Secondary School.  Your sponsorship, by purchasing an advertising hoarding, will help raise vital funds for the ongoing running of our club along with promoting your business or enterprise.
Apart from the school's usage, the hockey club's over 250 members train at the pitch.  Our teams play competitive hockey in The Munster League, representing Waterford at the highest level in both the Ladies and Men's Divisions.  We provide hockey training to approximately 120 school children on Sunday mornings along with our Tuesday, Thursday and Friday evening senior sessions.
Cost: €850 sponsors one pitch side hoarding for three years.  This cost includes the sign production and installation, but excludes any artwork which is required to be provided by the customer.  If required, our signage manufacturer can assist with providing artwork to our customers at an additional cost.  All hoardings are approximately 3 metres wide by 1 metre high.  All hoardings will be erected onto the new fencing facing onto the hockey pitch (along the rugby pitch side).  Some examples of the new hoardings are shown above.  Also, as the hoarding is located within the grounds of Newtown School some restrictions may apply regarding some types of advertising. 
Please note that while we cannot give exclusivity per industry sector we will endeavour to keep sponsors from a similar industry well separated.  The position of the hoarding can be chosen (from those available) by the sponsor themselves as soon as payment is made.  Once chosen, the exact dimensions of that hoarding will be provided.
Waterford Hockey Club would a very grateful if you could give this proposal serious consideration.  To book your space, if you require any further information or if you have any queries, please contact our club committee member Siobhan Glasheen by email at s.glasheen@hotmail.co.uk .
(published 26Sep2016)
New 'Tiger Turf' pitch to launch next generation of Hockey players in Waterford
For a minority sport hockey has made its mark in Ireland this year. The heroics of the men's team at the 2016 Rio Olympics has inspired a new generation of hockey players, both male and female, throughout the country. 
While Dublin and Cork have always been the twin capitals of hockey in Ireland the real growth of the sport can be seen in the regions, and nowhere is this more evident than in Waterford. 
The opening of a new 'Tiger Turf' hockey pitch at Newtown School Waterford is set to become the launching pad for this new generation of internationals and Olympians. 
Newtown School Waterford has been the home for hockey in Waterford for generations. National sports stars of other codes, Nick Popplewell (Irish and Lions rugby), Niall Tuohy (Athletics)and Jamie Deacon (Rugby) all represented their country in hockey while attending Newtown School Waterford. 
But this investment is all due to one grandfather's ambition. 
Roger Johnson, former vice principal of Newtown School was selected for Ireland in hockey in 1958, his son Craig also represented Ireland in 1985. So when his grandson Ben was named on the Irish under 16 squad for a European Championships in Antwerp last summer, Roger knew something had to be done about the twenty-year-old Newtown pitch Ben learned his sport and honed his skills on. 
The old AstroTurf, despite serving Newtown and Waterford hockey club well since 1997, was past its best and even a detriment to the progress of the young players. 
Roger proceeded to approach a number of former 'friends' of Newtown School Waterford, at home and abroad and within a couple of months managed to raise over €200,000. This led to comprehensive research of the best pitches in the country and the decision to opt for a 'Tiger Turf' pitch. 
Roger has been stunned by the speed of progress, "For what was just an idea in April, now at the end of September, we have a new pitch for future generations in Newtown and Waterford. While the primary motivation for the pitch was personal, it will also give all the boys and girls of Newtown and Waterford hockey club a real chance to learn the sport on an equal footing with the players who have access to the best facilities in the country". 
Another inspirational character agreed to officially open the pitch, Craig Fulton, Irish men's Olympic coach and international coach of the year 2015 made time in his busy schedule to give the pitch his blessing and launch its future. 
Hopefully his presence will inspire the next generation of internationals as much as it does the present crop.
(published 03Sep2016)
Waterpark 2016 Annual Golf Outing
Waterpark Rugby Club are running a fundraising golf event on Friday, 16th September 2016 at Waterford Castle Golf Club.  All golfing enthusiasts or tee sponsors are invited to participate to support their fundraising event.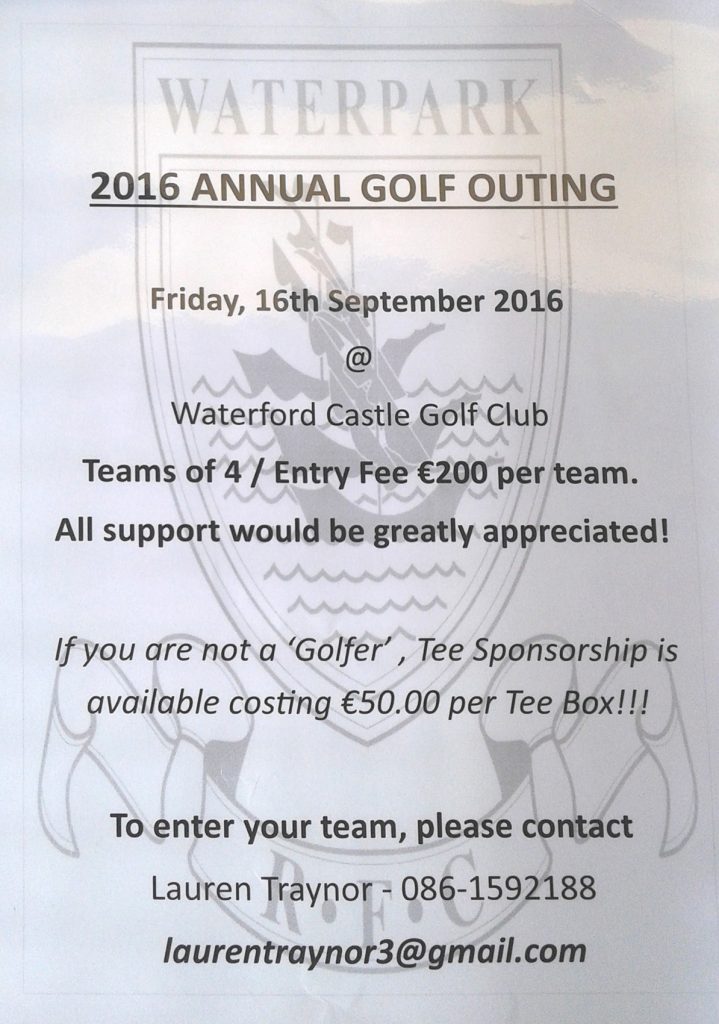 (published 08Aug2016) 
Killian O'Reilly discusses Olympics Irish Men's Hockey & WHC on Beat 102 103
Killian O'Reilly interviewed on Beat 102 103 radio station on Saturday August 6th 2016.  Killian discusses with Stephen Long of Beat the Irish men's team's chances in Rio, the sport of hockey and the development of hockey in Waterford within Waterford Hockey Club.
(published 01Jul2016)
Ireland Hockey at Rio Olympics
Our national Irish Men's Hockey Team are on their way to the Rio Olympics 2016.
The following video shows how they got there……..
(published 16Jun2016)
Waterford Hockey Club Seeking Coaches & Players
Waterford Hockey club are now welcoming expressions of the following for the upcoming season from September 2016 :
Coach and Players for the Men's section (WHC 1st XI Men's Team)
Players for the Ladies' section (WHC 1st XI Ladies Team and 2nd XI Ladies Team)
Waterford Hockey Club has gone through a very successful junior development period over the last few years which has resulted in our Junior Boys and Girls winning provincial leagues and cups.  The club are aiming to build on this success and are looking for new players to join.  The club along with Newtown School are also in the process of getting the current pitch relayed.
On the Men's side the 1st XI will be playing in Munster Division 2 next year.  The club seeks to appoint a dynamic and ambitious coach who shares our vision for the club building on a strong base of juniors.  We will accept applicants seeking a Coach or Player Coaching position and can provide the springboard for an up and coming talented coach.  We are aiming to put a remuneration package together if the suitable candidate arises.
The committee welcome applications from individuals who can give the required commitment to, training and weekend matches. Applicants should demonstrate good organisational and interpersonal skills and desirably have previous experience coaching at this level.
Interested applicants can send a short CV and cover letter, detailing their coaching qualifications, previous experience, achievements and successes to date and any other information they feel is relevant to their application to Stuart Greene at stuiegreene@gmail.com
The ladies have 2 teams and play in Munster Leagues (Division 1 and 4).  As always we welcome new members of all abilities to the club and if you are interested please contact our coach Chris Thomas on chris.thomas@fiskars.com or 1st XI Ladies captain Elaine Breen on elainebreen91@hotmail.com.